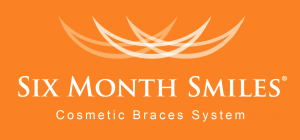 You shouldn't have to wait 2 years for straight teeth.
With us, you won't.
Our system is for adults (16+) with crooked, spaced, or misaligned teeth. We use discreet clear braces and tooth-colored wires. Barely noticeable. The average time is only 6 MONTHS!
Straight teeth in 6 Months?
Our clear braces are safe, comfortable, and provide quick results. Using proven techniques and materials, the braces have been specifically designed for adults with crooked, spaced, or misaligned teeth.
How Much Does it Cost?
While the cost is generally less expensive than traditional braces and aligners, it varies depending on your specific treatment goals.
Will People See Them?
Our clear brackets and tooth colored wires are discreet and almost unnoticeable at the surface. No matter the distance, they appear almost invisible to the human eye mid-conversation or just walking by.
What About Dental Insurance?
Your dental insurance may cover limited orthodontic treatment, such as Six Month Smiles. Details should be reviewed with your dentist's office.
Let's do this.
Book a Consultation.